Name
Kyohei Ozaki
E-mail
ozaki.kyohei[あっとまーく]d.mbox.nagoya-u.ac.jp
Research Interest
Recent Publication
(5) Annulative π-Extension (APEX): An Enabling Reaction for Rapid Access to Fused Aromatics, Heteroaromatics, and Nanographenes
Hideto Ito,* Kyohei Ozaki, and Kenichiro Itami*
Angew. Chem. Int. Ed. 2017, 56, 11144–11164.. DOI: 10.1002/anie.201701058.【detail】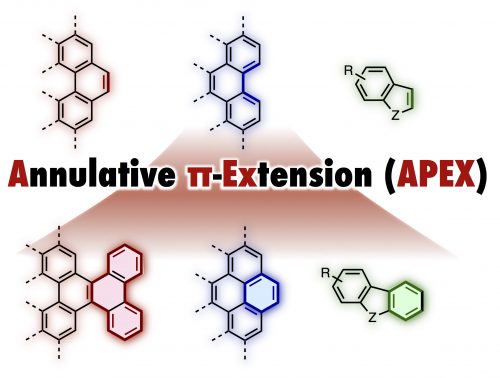 (4) Annulative π-Extension (APEX) of Heteroarenes with Dibenzosiloles and Dibenzogermoles by Palladium/o-Chloranil Catalysis
Kyohei Ozaki, Wataru Matsuoka, Hideto Ito,* Kenichiro Itami*
Org. Lett., 2017, 19, 1930–1933. DOI: 10.1021/acs.orglett.7b00684【detail】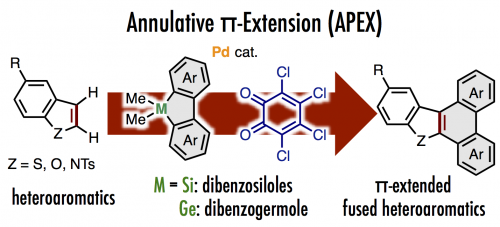 (3) One-Step Annulative p-Extension of Alkynes with Dibenzosiloles Dibenzogermoles by Palladium/o-chloranil Catalysis
Kyohei Ozaki, Keiichiro Murai, Wataru Matsuoka, Katsuaki Kawasumi, Hideto Ito,* and Kenichiro Itami*
Angew. Chem. Int. Ed. 2017, 56, 1362–1364. DOI: 10.1002/ange.201610374 【detail】
Selected as a Hot Paper
Highlighted in Synfacts

(2) One-shot K-region-selective Annulative π-Extension for Nanographene Synthesis and Functionalization
Kyohei Ozaki, Katsuaki Kawasumi, Mari Shibata, Hideto Ito, and Kenichiro Itami
Nature Commun. 2015, 6:6251. DOI: 10.1038/ncomms7251.【detail】
   Highlighted in News Papers (Chunichi Shinbun, Nikkan Kogyo Shimbun, Zaikeishinbun)
   Highlighted in Science Portal, Scicasts, Phys Org, AZO NANO, nano werk, Science Daily, Asia Research News, Eurek Alert.
(1) One-shot Indole-to-Carbazole π-Extension by Pd-Cu-Ag Trimetallic System
Kyohei Ozaki, Hua Zhang, Hideto Ito, Aiwen Lei and Kenichiro Itami
Chem. Sci. 2013, 4, 3416–3420, DOI: 10.1039/C3SC51447A 【detail】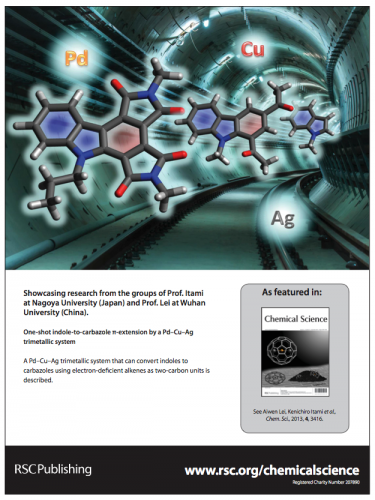 Most Read Articles in June and July in 2013
Selected as "HOT Chem Sci articles for June" in 2013
   Selected as Back Cover in issue 9, 2013
   Highlighted in Synfacts
   Selected as "Top 25 most-read Chemical Science articles in 2013"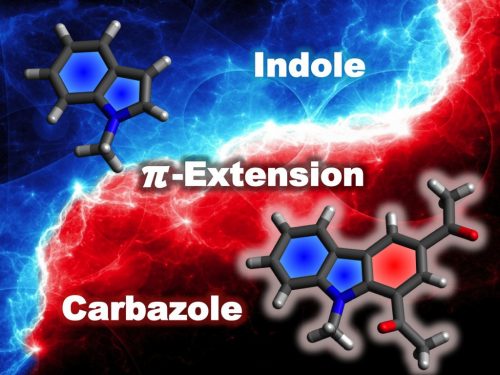 Recent Presentation
国内
口頭
(4) 尾崎恭平・村井啓一郎・川澄克光・伊藤英人・伊丹健一郎
  「 ナノグラフェン合成を指向したパラジウム触媒による芳香環1段階π拡張反応 」
      第61回有機金属化学討論会 O1-07 九州大学 福岡 2014年9月23日
(3) 尾崎恭平・川澄克光・伊藤英人・伊丹健一郎
  「 Palladium-catalyzed One-shot Aromatic π-Extension of Polycyclic Aromatic Hydrocarbons 」
      日本化学会第94春季年会 1B4-01 名古屋大学 愛知 2014年3月27日
(2) 尾崎恭平・Hua Zhang・伊藤英人・Aiwen Lei・伊丹健一郎
 「Pd触媒を用いたインドールの直接π共役拡張反応:カルバゾール類の合成」
   日本化学会第93春季年会 1F6-39 立命館大学 滋賀 2013年3月22日
(1) 尾崎恭平・瀬川泰知・伊丹健一郎
 「Pd触媒を用いた多環性芳香族炭化水素の直接アリール化反応(3)」
      日本化学会第92春季年会 3K8-37 慶應義塾大学 神奈川 2012年3月27日
ポスター
(4)  尾崎恭平・川澄克光・伊藤英人・伊丹健一郎
  「パラジウム触媒を用いた多環性芳香族炭化水素の直接π拡張法の開発」
       第24回基礎有機化学討論会 2P057 学習院大学 東京 2013年9月6日
(3)  尾崎恭平・Hua Zhang・伊藤英人・Aiwen Lei・伊丹健一郎
 「パラジウム触媒を用いたインドールの直接π共役拡張反応:カルバゾール類の合成」
    第46回有機金属若手の会 夏の学校2013、P094、宮城、2013年7月9日
(2)  尾崎恭平・瀬川泰知・伊丹健一郎
 「多環性芳香族炭化水素の直接アリール化」
    第45回有機金属若手の会 夏の学校2012、P087、山梨、2012年7月10日
(1)  尾崎恭平・瀬川泰知・伊丹健一郎
 「Pd-catalyzed Direct Arylation of Polycyclic Aromatic Hydrocarbons」
    統合物質創製化学推進事業・第3回統合物質シンポジウム、P30、福岡、2012年6月1日
国際
ポスター
(3) Kyohei Ozaki, Katsuaki Kawasumi, Hideto Ito, and Kenichiro Itami
  "Pd-Catalyzed One-Shot Aromatic π-Extension of Polycyclic Aromatic Hydrocarbons"
  The 2nd International Symposium on C–H Activation, P-61, University of Rennes 1, Rennes, France,
  2014年7月1日
(2) 尾崎恭平・Hua Zhang・伊藤英人・Aiwen Lei・伊丹健一郎
  " Direct Indole-to-Carbazole π-Extension through Palladium Catalysis"
        Thieme NAGOYA Symposium, P-37, Nagoya, 2013年5月
(1) 尾崎恭平・Hua Zhang・伊藤英人・Aiwen Lei・伊丹健一郎
  " Direct Indole-to-Carbazole π-Extension through Palladium Catalysis"
    The 15th IRTG Joint Seminar -University of Münster and Nagoya University-, P19, Nagoya, 2013年5月
Award
日本化学会第 94 春季年会(2014)学生講演賞
Comment
九州男児じゃありません。
お酒飲めません…。
どらららららららら