One-step synthesis to polycyclic thianthrenes from unfunctionalized aromatics by thia-APEX reaction
Kou. P. Kawahara, Hideto Ito,* Kenichiro Itami*
Org. Chem. Front., 2023, Accepted Manuscript. Open Access. DOI: 10.1039/D2QO02058K [detail]
Organic Chemistry Frontiers Emerging Investigator Series, 2023.
Kou's 4th work, which he submitted after working hard until New Year's Eve, was accepted by Org. Chem. Front. with high evaluation. It is a Thia-APEX reaction for the rapid synthesis of polysensitive aromatic compounds with the thianthrene skeleton, in which the aromatic ring is bridged by two sulfur atoms. This is the third chapter in his Ph.D thesis on hetero-APEX reaction, which Kou first initiated when he was a bachelor 4th year student in 2017. Congratulations on the acceptance of your last paper (4th paper), and do your best for a final Ph.D defense aon February 22th.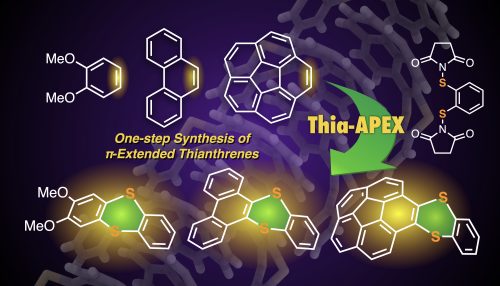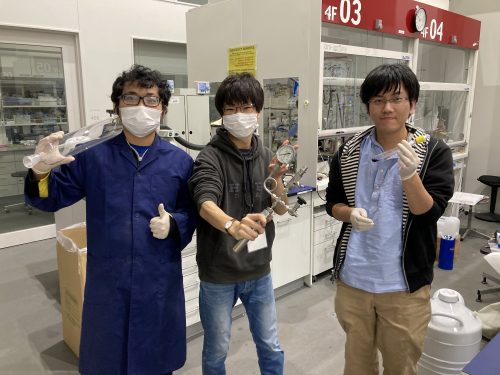 End-of-year experiment on Dec 31th, 2022 (left: Kou Kawahara)
In this paper, thia-APEX reactions affording π-extended thianthrene derivatives from unfunctionalized aromatics are described. By utilizing S-diimidated 1,2-arenedithiols as benzene-1,2-dithiol dication synthons, new benzodithiine arms were fused to the unfunctionalized aromatic substrates in one step, affording the π-extended thianthrenes in 21–87% yield. The present thia-APEX reaction occurs with equimolar amounts of aromatic substrates and S-diimidated 1,2-arenedithiol and a catalytic amount of TfOH, which is advantageous in the efficient creation of novel π-extended thianthrenes. In addition, unique solid state packing structure and photophysical properties of synthesized π-extended thianthrenes were elucidated in this study.
https://pubs.rsc.org/en/content/articlelanding/2023/qo/d2qo02058k