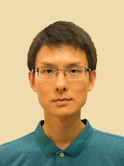 Name
Kwan Yin Cheung (張均然)
E-mail
cheung.kwan.yin[at]a.mbox.nagoya-u.ac.jp
Research Interest

Comment
Publication List
1) "A Twisted Nanographene Consisting of 96 Carbon Atoms"
K. Y. Cheung, C. K. Chan, Z. Liu, Q. Miao
Angew. Chem. Int. Ed. 2017, 56, 9003–9007.
2) "From tetrabenzoheptafulvalene to sp2 carbon nano-rings"
K. Y. Cheung, S. Yang, Q. Miao
Org. Chem. Front. 2017, 4, 699–703.
3) "Aromatic Saddles Containing Two Heptagons"
K. Y. Cheung, X. Xu, Q. Miao
J. Am. Chem. Soc. 2015, 137, 3910–3914.
4) "Polycyclic Arenes Containing Seven-Membered Carbocycles"
K. Y. Cheung, Q. Miao
in Polycyclic Arenes and Heteroarenes (Ed.: Q. Miao), Wiley-VCH Verlag GmbH & Co. KGaA, Weinheim, Germany, 2015, pp. 85–110.